Fastest 10-band equalizer (DirectShow DMO Audio Effect filter) on C++Builder 6

This project is still in it's early stages but I have made some progress.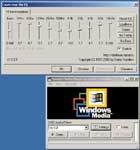 These files are not yet supported for end-users. Please refer all developer questions to slydiman@mail.ru at this time.
If you wish to ship versions of these files with any commercial product, then please contact me for advice.
Download:
Description
File
Version
Date
10-band equalizer (DirectShow DMO Audio Effect filter)
SlyEq.zip (109K)
1.0.0.8
18/11/2002
Simply MediaPlayer with support DirectShow DMO Audio Effect (including source code)
Whats new: Video Window control (zoom, fix ratio etc.)
slyplayer.zip (339K)
-
04/12/2003
Links:
CoolPlayer - http://www.daansystems.com
nPlayer - http://www.samo.cz/nplayer/
CenturionPlayer - http://www.centurion.pisem.net/
---
[Back]