WinLIRC client
Receive / transmit IR Remote Control comands using WIRC server (with RX / IrDA device support)
---
Events:
Default type: "REMOTE"
ID: "<Button name>"
Parameter: Repeat counter
Note: No event when the button is released.

Actions: WinLIRC transmittion command.
WinLirc( <WinLIRC window handle>, "<Remote>", "<Button>", <RepeatCount> )
WinLIRC blinks blue LED if all is OK.
See WinLIRC configuration file for viewing remote/button names.
Example:
WinLirc = Load( "WinLirc\WinLirc.dll", "REMOTE" )
WinMon = Load( "WinMon\WinMon.dll", "WINMON" )
...
h = WinMon.ActionPreset("WIRC")
Break( h = 0 )
WinLirc( h, "AVerMedia", "POWER", 1 )

Note: Run plugin setup for choice host/port.

---
LIRC / WinLIRC links:
WIRC
WinLIRC
LIRC Home Page
LIRC remote control database
LIRC Serial Port Receivers
LIRC Serial Port Transmitters
---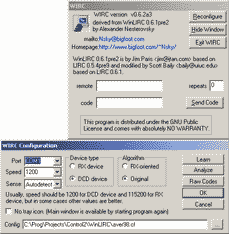 Configuring WinLIRC
At the first start it is necessary to configure the program. It is possible to use existing files of a configuration from LIRC remote control database.
In more detail, and also about adjustment of RX mode (IrDA), see WIRC FAQ
---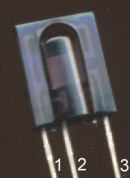 =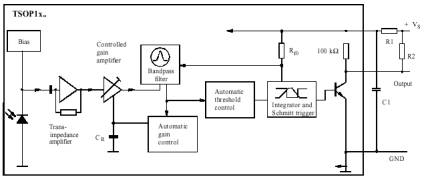 TSOP1836, IS1U60L, GP1U52X, SFH506-36, TK1833.
1.
GND
2. VCC (+5V)
3. DATA
Usually remote control works on distance up to 10 m.
Circuits:


It is possible to use photomodule from TV-tuner package (AverTV):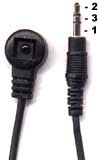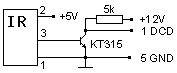 ---
Serial Port Transmitter
Simply:

Advanced: