MegaDyna v1.19
It's a remake of one very old game. Features: cool graphics (you can make your own skins), cool music, cool sound effects and the most important thing: this game supports four players at the same time. One player can play using joystick.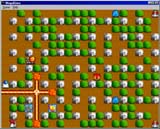 Best for having a good time in a big company, this game was written for number of players from 2 to 4. As for me, it's so boring to play alone, increasing the power of bombs and killing dull monsters.
This game is written in C++Builder using my DirectDraw & DirectSound VCL components.

Requirements: DirectX 8 or more
Download:
You can send author a request or an offer.
And here you can share your impressions with others (basically in Russian).
---
Analogues
I recommend you to check other game GigaDyna, written in Delphi 4 using DelphiX.
Home page: http://i.am/zloy
You can also compare my game with Mr.Boom 3.0 (ZIP ~630K).
Mr.Boom 3.0 home page: http://www.multimania.com/remdy/
---
MegaDyna history:
6.01.1999. I began to write it .
6 - 8.01.1999. Graphic engine was made in 3 days.
15.01.1999. Sound engine was made in 3 days.
22.01.1999. One more night for MP3 support.
6.02.1999. Release of the first working version 0.55 (jubilee one - 1 month passed).
7.03.1999. One more month for setting up to work with DirectX 6 - version 1.0 beta
Versions 1.10 - 1.13 from the beginning of autumn didn't differ much one from each other.
26.11.1999. Version 1.15 - many little bugs were fixed.
31.01.2000. Version 1.16 - Parts of a new engine were installed (about 560fps on PII-450 640x480 16bpp), some sound bugs were fixed.
1.03.2004. Version 1.18 - Compatible with DirectX 9, new skins, new bugs.
1.12.2014. Version 1.19 - Supported resolutions up to 1920x1280.

---